June 22, 2017
Meet 16-year-old Eric Pardinho, Brazil's first million-dollar arm
This story is also posted in Spanish and Portuguese.
In the rolling hills of Ibiuna, high above the eucalyptus trees and about 50 miles west of downtown Sao Paulo, a major league scout stands behind home plate at the Yakult Academy stadium on a Sunday afternoon in April. From the darkness of the official scorer's booth, he points a radar gun at the mound, where 16-year-old right-hander Eric Pardinho is blowing away overmatched adolescents who have no earthly business stepping into the box against him.
Nearby, another evaluator raves about the young hurler's textbook technique. About how he rotates the lower half of his body to create leverage that someone who's generously listed at 5-foot-10 shouldn't be able to create. How his hands are in perfect position when his front foot strikes the ground. And that follow-through. "You sign guys and work with them for three years in the minor leagues to get them to do all that," the scout says.
Last September, as a 15-year-old, Pardinho triggered a sensation when he served up mid-90s cheese to grown men at the World Baseball Classic qualifier in New York City. Nearly a year later, with MLB's international signing period set to begin on July 2, he's expected to ink the richest deal ever given to a prospect from his country.
But not everyone is sold. Some MLB executives wonder about the kid's size and the lack of competition in Brazil, a soccer-crazed country that didn't produce its first big leaguer until 2012 and has sent a grand total of three players to the majors.
So is he worth it? The answer lies in the pitch — the sales pitch, that is.
Up in the stands along the first-base line, Pardinho's father, Evandro, looks on intently. On Friday, as he often does, he drove 300 miles to watch his boy compete in a weekend tournament. On Saturday, he damn near had a heart attack when his kid tried to score all the way from second on a wild pitch, sliding into home on a bang-bang play in which the late-arriving pitcher had to hurdle over Pardinho, narrowly avoiding a gruesome collision. Now it's Sunday, and even though it's the championship game, the new face of Brazilian baseball is on a pitch count. Instead of the normal five or six frames Pardinho would typically work, he'll throw just two innings.
For what it's worth, his father — whose relentless pursuit of getting his son to the majors resulted in Eric becoming the first Brazilian prospect ever to have an agent — is on board with the kid-gloves approach.
"My biggest fear is that he gets hurt," Evandro says. "I want to put him in a bubble."
---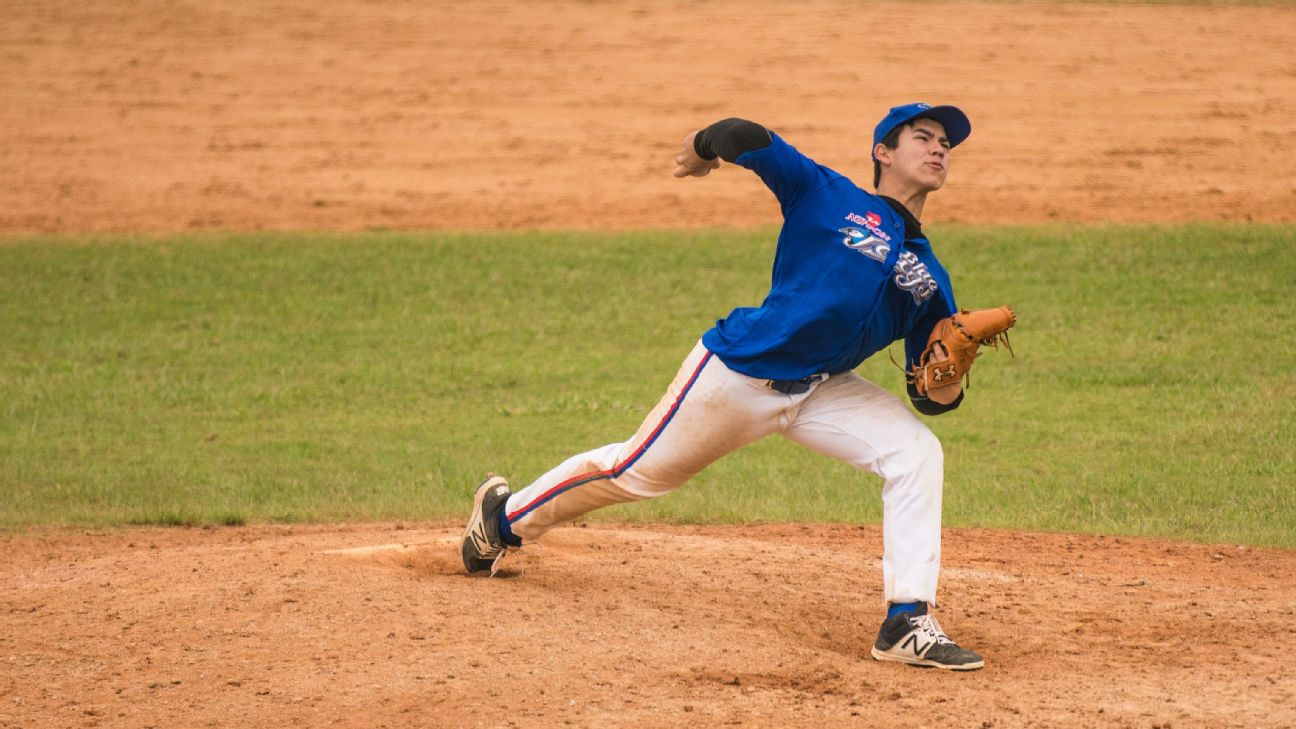 Evandro Pardinho is a salesman. The great-grandson of Italian immigrants, he wears designer glasses and designer button-down shirts. He has perfectly coiffed salt-and-pepper hair and shiny manicured fingernails. He makes his living peddling children's footwear for a Brazilian company called Kidy.
But one of Evandro's most successful sales pitches ever was to his 6-year-old son.
It was 2007, and the Pardinhos had just gotten back from a beach vacation in Parana, where Eric's Japanese uncle had been impressed with the hand-eye coordination his nephew showed playing paddleball one morning. Maybe he should give baseball a try, the uncle told his brother-in-law.
Back at home in the rural town of Bastos, knowing full well Eric would resist, Evandro sold his son a bill of goods. He said he was taking him to play soccer, the child's first love. Instead, Evandro drove Eric straight to the local diamond for a blind date with baseball.
"I didn't know what it was," Eric says. "But there were a lot of kids playing it, and I was curious. Kids like dirt and balls, so I had a lot of fun."
Still, the best part of the day came once the bats and gloves — and the pushy parents — went away.
"Afterwards, we all stuck around and played soccer."
A decade later, the shoe salesman admits he had to work overtime when it came to hawking hardball to his son.
"At first, there was resistance because he was in love with soccer," says Evandro, a former volleyball player who learned the American pastime alongside his son, even volunteering to coach Eric's youth team despite his lack of familiarity with the sport. "But with a lot of insisting, he ended up giving in and started going to baseball practice."
For a father who knew absolutely nothing about the grand old game, getting his boy to buy into baseball might seem like an odd agenda — until you consider the fabric of the farmland that surrounds him.
Like many Asian immigrant colonies in Brazil, which boasts the largest Japanese population in the world outside of Japan, Bastos remains indelibly influenced by its ancestry. The main street is called Avenida Dezoito de Junho (June 18th Avenue), named after the date in 1908 when migrant Japanese farmers arrived in Brazil and burrowed their way inland, looking for work in the coffee and sugarcane fields. One block over is a community center where elderly women dressed in kimonos practice traditional dance and young students learn to complete seemingly impossible mathematical equations in a matter of seconds using an ancient abacus called a soroban.
But perhaps the single-most Japanese thing about the place is its baseball field.
Officially named for the man who founded Bastos nearly 90 years ago, Tsutoma Maruyama Baseball Stadium has been around as long as the town has and is situated right in the middle of it, next to the church. Known to locals as Campo de Cidade (City Field), it was a temple built by the Japanese in honor of the game they love. For most of the 20th century, that's pretty much who used it, partly because of an insular immigrant community that wasn't interested in mingling with gaijins (outsiders) and partly because most of those gaijins preferred soccer to the import sport with the weird rules. But starting in the 1980s, when the nation's economic crisis sent many Japanese immigrants back across the Pacific, the DNA of Brazilian baseball slowly started to evolve.
In 1992, Jose Pett, a blond-haired, blue-eyed, 6-foot-6 specimen from Sao Paulo, signed with the Toronto Blue Jays for $700,000, more than any international player had ever received. In 2000, when the Yakult Academy opened in Ibiuna, six of the 25 baseball players in its first class were full-blooded brasileiros.
By the time Eric Eiji Tanaguchi Pardinho got snookered into visiting City Field a few years later, the gaijin revolution was well underway.
---
Maybe it's just a coincidence that in 2013, the year after fellow Bastos native Luiz Gohara signed a record-breaking deal with the Seattle Mariners worth nearly $1 million, Evandro Pardinho's 12-year-old son finally gave up soccer and started focusing on baseball. Then again, salesmen do work on commission.
The year after that, in 2014, Evandro sent his son to live on his own at the Yakult Academy, where Gohara had once trained and where Eric became the youngest resident at what is essentially Brazilian baseball's answer to the IMG Academy. Besides packing his glove and cleats, Eric brought along a daunting to-do list.
"For Eric to achieve the success he's building in Brazil and the world, we had to create goals for him," says Evandro, noting that when his son arrived at the academy, his fastball was maxing out in the low 70s — good for a 13-year-old, but not good enough. "We had a goal that in a year he would reach 80 miles an hour. He managed to reach 80 at age 14, and when he turned 15, the goal was to reach 90 miles an hour. It was a huge step from 80 to 90 in a year, and after 90 he created other goals, to reach 92, 94, until he reached 95."
It was such a drastic jump in velocity — especially for a kid who's on the wrong side of 6 feet — that those who know Eric are concerned about whether his body can handle it.
"It worries me a lot," says Mitsuyoshi Sato, a gentle 69-year-old who has served as the head coach at the Yakult Academy since it opened and answers exclusively to the nickname Sensei. "This is a rare thing in the world of baseball. So we take special care to avoid injury, especially in his arm. We're happy, but at the same time we're worried about it. How can this boy throw so fast?"
The secret, at least in part, can be found in Eric's Asian-influenced instruction.
"We used the Japanese technique on him," says Arthur Asanome, who has spent the past 30 years coaching kids in Bastos, including Gohara, who was traded to the Atlanta Braves in January. Unlike Gohara, a burly 6-3 lefty who draws comparisons to CC Sabathia, Pardinho doesn't have great size. But what he lacks in magnitude, he makes up for with mechanics.
"The potential and union of all forces," says Asanome, referring to the Japanese emphasis on kinetic energy and weight transfer. "In very little time, he managed to assimilate all the teaching and began using his body the right way. He built mass, precision and velocity."
He also built a pretty solid résumé.
As a 14-year-old, Pardinho took the mound three times at the U14 Pan-American Championships in Venezuela and took home three trophies (for most wins, most strikeouts and lowest ERA). Last summer at the 2016 U16 Pan-Am Championships, he tallied 12 K's in six innings to lead Brazil over the Dominican Republic.
Two months later at the WBC qualifier in Brooklyn, he had his coming-out party, working two-thirds of an inning against Pakistan and flashing a fastball that was clocked at 94 mph. It wasn't a perfect outing by any means — he walked a batter, allowed a hit and didn't finish the frame — but for a 15-year-old from a country that's just starting to penetrate the collective consciousness of the scouting world, it was more than enough. Pardinho found himself at the center of a feeding frenzy.
The Mariners, Blue Jays and Arizona Diamondbacks showed interest. So too did the New York Mets, Cincinnati Reds and Tampa Bay Rays. The attention was so great that in January, the shoe salesman from City Field hired an athlete salesman from the City of Angels (agent Rafa Nieves, now of L.A.-based Wasserman) to handle Eric's negotiations. Shortly thereafter, father and son embarked on a whirlwind tour of showcases and medical exams and steak dinners. There was a locker with Pardinho's name above it and his trademark No. 43 jersey hanging in it, and grass so perfectly emerald that Evandro had to touch it to make sure it was real.
More recently, Eric was ranked by MLB.com as its No. 5 international prospect and the only pitcher to crack the top 25. When the international signing period kicks off, he's expected to ink a day-one deal for somewhere between $1 million and $2 million, well above the $880,000 that Luiz Gohara received five years ago.
In baseball terms, a million and a half bucks for an international talent might not seem like a whole lot — not compared to the $42 million Cuban outfielder Yasiel Puig received from the Dodgers in 2012, or the $31.5 million Puig's countryman Yoan Moncada got from the Red Sox in 2015. Or even the $6 million the Giants gave Bahamian shortstop Lucius Fox that same year, a record for a non-Cuban player.
That said, Pardinho's expected haul is unheard of for a Brazilian prospect. Making the payday even more conspicuous is the new collective bargaining agreement that went into effect last December, which limits how much MLB clubs can spend on international signings by imposing a hard cap between $4.75 million and $5.75 million. (In the old labor deal, teams could spend as they pleased, just as long as they paid a luxury tax for going over their allotted amount.) In other words, relatively speaking, a million and a half bucks is a shipload of shekels.
"We just can't compete with that kind of obscene money, and there's no reason we should," says one American League executive who equates Pardinho's talent level to that of a third-to-fifth-round high school pick in the U.S., the kind that would typically sign for anywhere from $500,000 to $800,000. "You can get the same player in the States with way less downside. You don't have to pay for an interpreter, you know who he's played against and you've been able to evaluate him against good competition."
Says a second AL exec: "You can get pitching a lot cheaper in the Dominican and Venezuela."
Which raises the question: Why all the fuss over the kid from Bastos?
Unlike Gohara or any Brazilian prospect before him, Pardinho has an agent. Two agents, if you count his pops. "His people did a good job of promoting him," the second exec says. "If Gohara had done the whole showcase circuit and all that, he would've gotten paid a lot more."
Instead, it's Pardinho who's poised to make history. And plenty of money.
His dad seems just fine with both.
"People kept telling me that Eric was only good here in Brazil but that internationally there were millions like him," says Evandro, perpetually in sell mode. "I've always been an athlete and always wanted to be the best in everything I did. So it became a goal for me, and for him. We worked and talked so he could show the world that yes, Brazil can also have great baseball players. In July, when he can sign with an American team, we'll finish a story that started when he was 6. We'll close this chapter and open another chapter — getting to the major leagues."
---